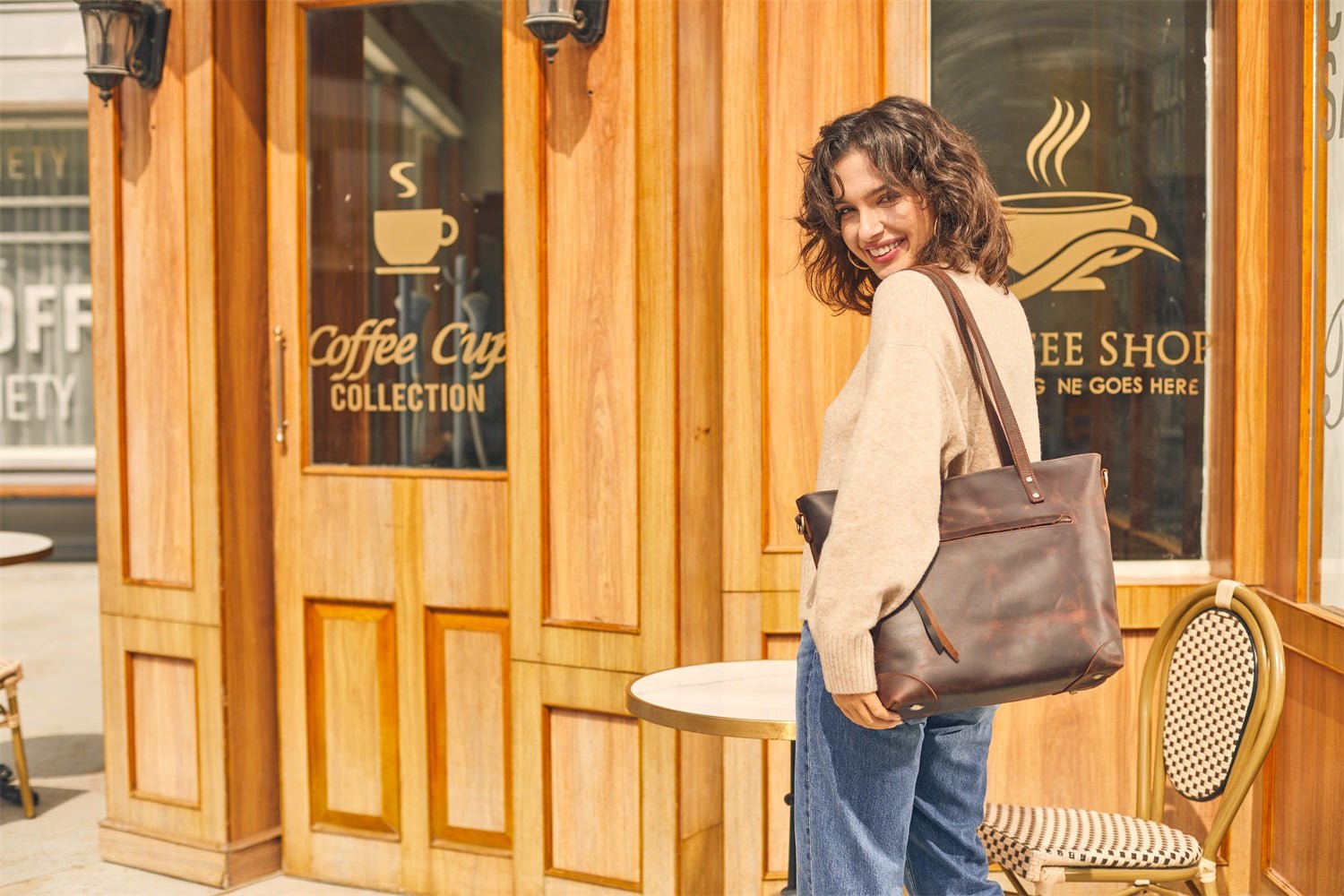 What's the most important item for a perfect winter outfit?
What's the most important item for a perfect winter outfit?
Maybe you're wondering how to go with your new winter coat? Then you shouldn't miss this versatile item -- a leather bag. A high-end genuine leather bag can enhance the completion of your entire outfit, make your temperament more prominent, and is a manifestation of understated luxury.
Let me introduce you to 3 classic leather bags that have received rave reviews and hope they will help you create the perfect winter outfit.
The first bag is an upgrade from our store's best-selling tote bag, and the details are polished even better. Let's see what our customer Trish has to say about it. 
"I love this beautiful, real leather and brass tote bag! I can't believe how amazing this bag is for the price! The leather is smooth and gently distressed looking. The hand straps have cord on the underside to make it more comfortable to carry and the straps more durable. The inside padded section easily holds my laptop and the main section holds everything else. Most non-leather bags aren't this nice. Highly recommended."--Trish
Click the images for more details>>>
Compared to the boxy shape of the previous bag, the second bag has a little curve on the sides and bottom, which adds a touch of cuteness to it.
"This bag is beautiful! The leather is soft/smooth to touch while also being sturdy enough to stand up alone. The patterned strap is super cute and the black strap is very nice as well. The black strap is a black woven fabric with a strip of black leather sew down the middle. The overall craftsmanship is superb. I'm really glad I bought the bag. "--Bfox
Click the images for more details>>>
If you feel like your winter outfit is already cumbersome and bloated enough and don't want to add more burden, then you can consider this mini tote, which can also be turned into a cross-body bag. I hope Besey's review is helpful to you.
"I love this bag, it's the perfect size, the perfect shape, the perfect leather, great color, the strap is great for crossbody or the handles are a nice option. It holds everything that I like to carry, wallet, tissues, planner, check book, lotion, lip gloss, a small note book, glasses, masks, and more. It's easy to find the things I'm looking for due to the box shape. Yes it would fit a small ipad as well.
Best bag I've found in a long time, it's not large, in fact I'd call it small, but it's just right for my things.The pocket on the outside is just the right size for my phone without it sticking over the top.--Besey"
Click the images for more details>>>
After reading this article, do you already have a good idea of how to match your winter clothing? Welcome to leave a message to share your impressions! Christmas is just around the corner, so why not get yourself the perfect new outfit?
See you next week!