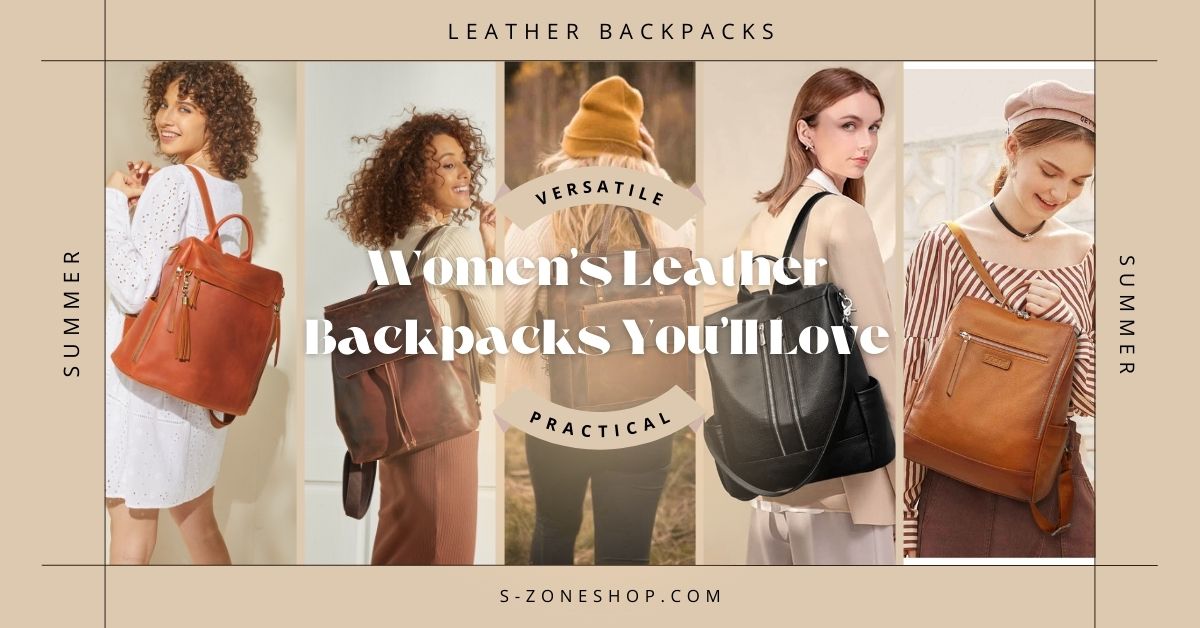 Versatile and Practical: Women's Leather Backpacks You'll Love
Backpacks have been a popular choice for carrying everyday essentials for decades. They are practical, convenient, and comfortable to wear, making them a go-to option for students, professionals, and travelers alike. However, backpacks have come a long way from being just a functional accessory. Today, they are a fashion statement and a must-have accessory for any stylish woman. In this blog, we will take a closer look at some of the most versatile and practical women's leather backpacks that you'll love.
The Women's Leather Convertible Backpack is a versatile and stylish accessory that is perfect for any modern woman on the go. Made from high-quality leather, this backpack is durable and long-lasting. Its convertible design allows it to be worn as a backpack or a shoulder bag, providing versatility and convenience. The spacious interior provides ample room for all your essentials, including a laptop, tablet, and other daily necessities. The adjustable straps and top handle ensure comfort and ease of use, making this backpack a must-have for any woman who values fashion and function.

A leather satchel backpack is a stylish and versatile accessory that is both functional and fashionable. Made from high-quality leather, it is durable and can withstand the wear and tear of daily use. With its ample storage space and multiple compartments, it is ideal for carrying books, laptops, and other essentials. The satchel design adds a touch of sophistication to any outfit, while the backpack straps make it easy to carry on the go. Whether you are a student, a professional, or someone who loves to travel, a leather satchel backpack is a must-have accessory that combines style and practicality in one elegant package.

Women's anti-theft leather backpacks are an excellent choice for those who prioritize safety and security. With their advanced anti-theft features such as lockable zippers and RFID blocking technology, you can rest assured that your valuable belongings are protected from theft and unauthorized access. Made from high-quality leather, these backpacks are also durable and stylish, making them an ideal accessory for daily use or travel.
A women's leather hospital backpack is a practical and stylish option for healthcare professionals and patients alike. These backpacks are designed with functionality in mind, with features such as multiple compartments and pockets to keep medical supplies organized and easily accessible. Made from high-quality leather, they are durable and easy to clean, making them ideal for use in a hospital environment. With their sleek and professional appearance, women's leather hospital backpacks are also a great choice for healthcare professionals who want to maintain a polished and put-together look while on the job. Additionally, these backpacks can also be used by patients who need to carry their medical supplies and personal belongings during their hospital stay. Overall, a women's leather hospital backpack is a practical and stylish accessory that can make a positive impact on both healthcare professionals and patients.
When looking at the variety and versatility of women's leather backpacks, but also pay attention to their durability and practicability, here are some features to help you choose a durable and practical leather backpack.

The first and foremost feature of a durable women's leather backpack is the quality of the leather. Full-grain leather is considered the best quality leather as it is strong, thick, and ages beautifully over time. Other types of leather such as top-grain leather or genuine leather are also good options, but full-grain leather is a cut above the rest.

Zippers are an important part of a backpack as they keep the contents secure. Therefore, it is important to choose a backpack with sturdy zippers. Look for zippers made of metal or heavy-duty plastic, as they are less likely to break or malfunction.
Another important feature of a durable women's leather backpack is the strength of the straps. The straps should be reinforced and securely attached to the backpack. The stitching should also be strong and durable, as this is a common area where backpacks tend to wear and tear.

A padded laptop compartment is a must-have for anyone who carries a laptop in their backpack. The compartment should be well-padded and able to hold a variety of laptop sizes. This will protect your laptop from bumps and scratches.
A functional women's leather backpack should have multiple compartments to keep everything organized. Look for a backpack with a main compartment, a front pocket, and side pockets. This will make it easy to access everything you need without having to dig through the contents of your backpack.

A leather backpack is a versatile and practical accessory that can be worn with almost any outfit. With so many options to choose from, you're sure to find a backpack that fits your style and needs. Whether you're looking for a convertible backpack, a satchel backpack, a Anti-theft leather backpack, or a hospital backpack, there is a leather backpack out there that you'll love. So, take your pick from our list of versatile and trendy women's leather backpacks and elevate your style.