WHAT IS CRAZY HORSE LEATHER?
Crazy Horse Leather is a special leather type that undoubtedly stands apart from the rest and its name comes from the leather that is used for the production of horse saddles and which is likewise called Saddle Leather.
Crazy Horse Leather is actually made from the highest quality full grain cowhide which guarantees that it will endure several years of usage and abuse. Full grain cow leather is the strongest and most durable leather, which suggests that it will just intensify its terrific beauty over time.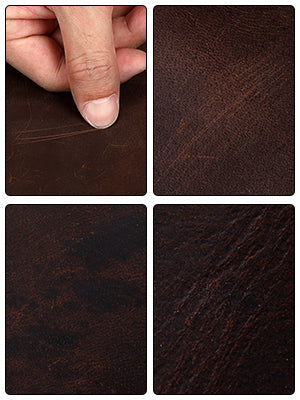 What Makes Crazy Horse Leather So Unique?
There is no finer leather than Crazy Horse leather. The high quality of the 100% natural cowhide shines through-- bumps and scratches create a luscious variety of hues that increase the bag's beauty. The irregularities that can only be discovered in authentic leather add to each bag's unique vintage appearance.
, if you are looking for a distinctive bag that is as long lasting as it is attractive-- look no even more.. S-ZONE Crazy Horse leather bag is made by skilled craftsmen using just the finest products. The natural irregularities in the 100% genuine cowhide assurance that each bag is as private and distinct as the person that owns it.


How is crazy horse leather made?

Crazy Horse Leather is made with the highest quality materials, provided by the finest providers in the field. The leather utilized is full grain cowhide that is of the greatest quality in terms of color and strength
.
Crazy Horse leather is produced by highly skilled craftsmen utilizing just the finest quality 100% natural leather. This abundant full-grain cowhide is treated with natural wax, then hand ended up to excellence-- establishing a waterproof leather that is resilient, lovely, and buttery-soft to the touch
.
Crazy horse leather is made by applying a thick layer of a special type of wax to a full grain cowhide surface area that has been smoothed and polished to offer it a smooth and glossy feel. The wax will enhance the fibers of the leather and trigger small modifications in the tone, shape and appearance of the product. This provides it a classic appearance that ages wonderfully with time, to increase the vintage appearance that Crazy Horse Leather is known for
.

Through the process that is used to full grain cowhide, it is guaranteed that this leather will stand up to several years of use and abuse without wear.

👉Our crazy horse collection.
4 comments
I have contacted you three times to get a return label to return this item and receive a full refund.
Why can't you provide the return service you state on your page
Need a response or I will call The Better Business Bureau and file a complaint.
Cyndi Spears
Cyndi Spears
January 03, 2023
Carol Murphree
December 26, 2022
I have heard nothing from you about my order. You said it was shipped Dec. 3, 2022.
When will it be delivered?????????
Linda Christie
Linda Christie
December 12, 2022
Leave a comment