Article: Start the Best Graduation Trip with These Travel Bags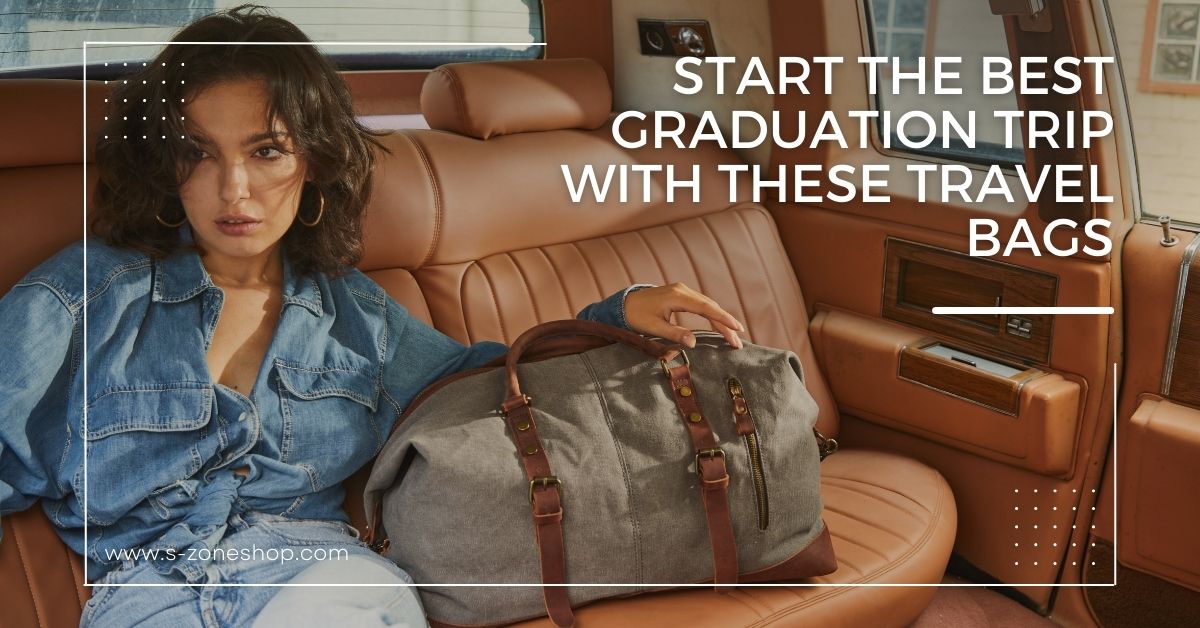 Start the Best Graduation Trip with These Travel Bags
The graduation season approaches, many students are preparing to travel to their next destination, whether it be for a new job, further education, or simply a well-deserved vacation. One essential item for any traveler is a durable and versatile travel weekend bag. In this blog, we will recommend some of the best travel duffel bags for graduates to consider.
The S-ZONE 60L Canvas Duffel Bag is a classic choice for any graduates. This bag is made of durable canvas, including anti-wrinkle fabric and reinforced stitching, making it ideal for outdoor adventures. It has a capacity of 60L. The bag also features multiple pockets, detachable long shoulder strap, bottom shoe compartment, allowing for easy and organized packing. With a range of colors available, this bag is suitable for any travel style, and suitable for both boys and girls.

The Women Traveling Carryon Weekend Duffel Bag is another popular choice for graduates. This bag is made of high-quality durable genuine leather with silver hardware and polyester lining, and features a large main compartment, bottom Shoe compartment, several interior and exterior pockets for storage. The bag also has an adjustable shoulder strap and strong handle for convenient carrying, making it an excellent choice for those who plan on carrying their bag for extended periods. With its timeless style and practical features, this overnight bag is the perfect gift for graduates who love to short overnight trip.

The 50L Canvas Duffel Bag With Shoe Laptop Compartment is a versatile option for graduates. This bag is made of waterproof & wear-resistant waxed canvas with PU leather trim, comes with detachable and adjustable shoulder strap which easily switches your overnight bag to hand carry/shoulder/cross-body wear. Its capacity is enough for a 3–7 days trip for carrying traveling necessities. The bag also has a padded laptop compartment that fits up to 15.6inch Laptop or tablet, and the thickly padded designs for protection of your computer from accidental bump and shock. This travel duffle bag is also a Yoga Sports Bag, front bands make it practical to place your yoga mat or jacket by adjusting the straps to be a travel duffle or gym bag.

If you're planning on spending your graduation trip hiking, camping, or exploring the great outdoors, 55L Canvas Duffel Bag Expansion Compartment is a perfect choice. The is an excellent choice for travelers who want a bag that can withstand any conditions. This bag is made of water-resistant materials and features a durable frame that can handle rough handling. It also comes with a 10L side expansion compartment, You can expand its original capacity of 55 liters to 65 liters by unzipping it. The bag also has multiple pockets, padded handle and padded detachable shoulder strap, making it comfortable and easy to pack and carry.


This 45L Weekender Bag for Grads is a stylish option for travelers who want a bag that looks as good as it performs. This bag is made of durable canvas and features a spacious main compartment and a shoe compartment for storage. The bag also has a strong leather shoulder strap and handle for comfortable carrying. Plus, this weekender Bag is known for its trendy designs, so you can travel in style.


A travel duffel bag is an essential item for any graduate preparing for their next adventure. The above duffel bags are all excellent options to consider. When choosing a bag, be sure to consider factors such as durability, storage capacity, and comfort, and choose a bag that suits your travel style and needs.