Article: How To Find A Good Leather Duffel Bag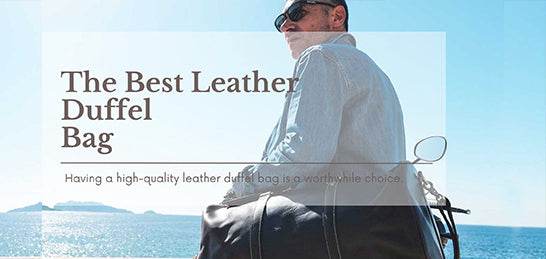 How To Find A Good Leather Duffel Bag
The Best Leather Duffel Bag
When it comes to travel bags, you're bound to think of  the bag that accompanied you to Maui, Marco Island, and Yellowstone National Park and is now in your locker. We need travel bags to help us with all kinds of travel items, clothes, shoes, toiletries, etc. But a duffel bag is more than just a travel duffel bag.
Business trips
If you have a short business trip or need to commute frequently, a duffel bag can be a practical option for carrying your work essentials. Leather duffel bags have ample storage space to accommodate all the necessary items needed for a business trip. They often feature multiple compartments, pockets, and sleeves that help organize items such as laptops, documents, phones, chargers, and clothing. The spaciousness of leather duffel bags makes them an ideal choice for longer business trips or extended stays. Leather duffel bag that made from high-quality leather material that can resist scratches, scuffs, and stains. In addition to the functions of a leather duffel bag, a classic and professional appearance that can complement any business attire may be more attractive. Leather is a timeless material that exudes elegance and sophistication, making it suitable for formal occasions. We have a leather duffel bag and it really is the perfect combination of business and travel. It is a combination of a suit bag and a travel bag, both a travel bag and a suit bag. This garment bag duffel is ideal for people who carry a suit on a business trip and are afraid that it will become wrinkled.  
College or university
Students may use a duffel bag to carry books, laptops, and other school supplies when commuting to class. Leather duffel bag is versatile, durable, and spacious enough to carry all their necessary items for class, extracurricular activities, and travel. Duffel bags are also easy to pack and unpack, making them ideal for students who are always on the go. The adjustable shoulder strap or handles also make it comfortable to carry during long commutes or travels. Additionally, Leather travel bags are wash-free and only need to be wiped to remove dirt and dirt. Students who don't want to always wash their bags will love leather duffel bags. 
Hospital escort 
Duffel bags are designed to hold a lot of items, including clothing and personal care items, which makes them an ideal choice for packing for a hospital stay. They are also often made of durable materials that can withstand frequent use and transportation. Additionally, duffel bags usually have carrying handles and shoulder straps, making them easy to transport from one location to another.
Storage
Duffel bags can also be utilized for storage purposes, such as storing seasonal clothing, linens, or other bulky items.
Duffel bags are a versatile and convenient type of bag that can be used for various purposes.

The most important thing to consider is the leather quality.  
The quality of the leather used in the bag will determine how durable and long-lasting it is. In S-ZONE'S shop you can find duffel bags made of crazy horse leather (full-grain leather) and split cowhide leather. Look for bags made from high-quality leather that is thick and supple, and free from blemishes or scratches. Full-grain leather is the most premium type of leather money can buy, as it retains the natural grain pattern of the hide and develops a unique patina over time. Top-grain leather is a close second, and is often used for bags because it still offers good quality and durability.
Size and capacity |duffel bag sizes
Consider what you will be using the bag for and choose a size that suits your needs. A small weekend bag may be sufficient for a weekend trip, while large weekender bag might be necessary for longer stays. Additionally, make sure that the bag has enough space to carry all your items comfortably. You can find 20L, 30L,35L, 40L, 45L, 50L, 55L, 60L, 65L duffel bags in S-ZONE.
 A weekender bag
A weekender bag is a type of travel bag that is designed to hold enough clothing and personal items for a short trip, typically 2-3 days. It is usually smaller than a regular suitcase but larger than a backpack or tote bag, and can be carried by hand or over the shoulder. 
A carry-on duffel bag|carry on duffel bag size
A carry-on duffel bag is a type of travel bag that is designed to be taken on board a flight as a carry-on item. The size of a carry-on duffel bag can vary depending on the airline and destination, as different airlines have different restrictions for carry-on luggage. In general, however, most airlines allow carry-on bags with dimensions up to 22 inches x 14 inches x 9 inches (56 cm x 36 cm x 23 cm) including handles and wheels. It is always best to check with your airline for their specific requirements before traveling.
Durability handwares and stitching quality|leather duffel bag
Handwares and stitching quality affects the durability and overall appearance of a leather duffel bag, especially a vintage leather duffel bag.
Hardware such as zippers, clasps, and buckles should be made from sturdy materials such as metal or high-quality plastics. These materials can resist stress and damage from repeated use, ensuring that the hardware remains functional over time. Additionally, the hardware should be securely attached to the bag, so it does not come loose or detach during use.
Poor quality stitching can cause the bag to come apart at the seams or fray over time, which will weaken the bag's structure and reduce its lifespan. On the other hand, high-quality stitching ensures that the bag remains intact and retains its shape even after extended use.  The stitching should be strong, even, and tight to prevent the seams from tearing or unraveling. The thread used for stitching should be thick and durable, such as nylon or polyester, to ensure it can withstand the weight and pressure of the items inside the bag.
Compartments and pockets
Consider the number and size of compartments and pockets inside and outside the bag to ensure they meet your needs. While there are differences in the redesign of travel bags for different purposes. 
For business travelers, we will consider adding computer compartments, suit compartments, etc. when designing. If it is only used for daily travel, tourism use; When we design, we mainly consider the larger space, independent shoe cabinet, etc. Each package is presented to those who like it with full consideration for the user's needs.
Comfort and convenience
Look for bags with comfortable handles or straps to make carrying the bag around easy, especially when fully loaded. Additionally, having pockets and compartments inside and outside the bag can help you stay organized throughout your journey. That would be great if the duffel bag is designed with a long shoulder strap. With a long shoulder strap, you can easily sling the bag over your shoulder or across your body without it hugging too tightly to your body. This can alleviate pressure on your arms and hands while also keeping your hands free for other activities. Additionally, a long shoulder strap can help stabilize the duffel bag, preventing it from swinging or slipping. All our leather travel bags are designed with such a long shoulder strap. And to make your back more comfortable, the long shoulder straps are equipped with pad, which provides additional comfort and support when carrying a heavy bag for an extended period of time. 
Protect from moisture
Avoid exposing your leather duffel bag to water or other liquids, as this can damage the leather. If it does get wet, blot it dry with a towel and allow it to air dry.
Keep it clean
Wipe your leather duffel bag with a dry cloth or soft-bristled brush to remove any dust or debris that may have accumulated on it.
Clean stains immediately
If you notice a stain on your leather duffel bag, clean it up as soon as possible. Leather conditioner is generally not recommended. Use leather conditioner if needed, apply a high-quality leather conditioner to keep the leather supple and prevent it from cracking. Follow the manufacturer's instructions for best results.