Article: Top Travel Duffel Bags for Men: Father's Day Gift Ideas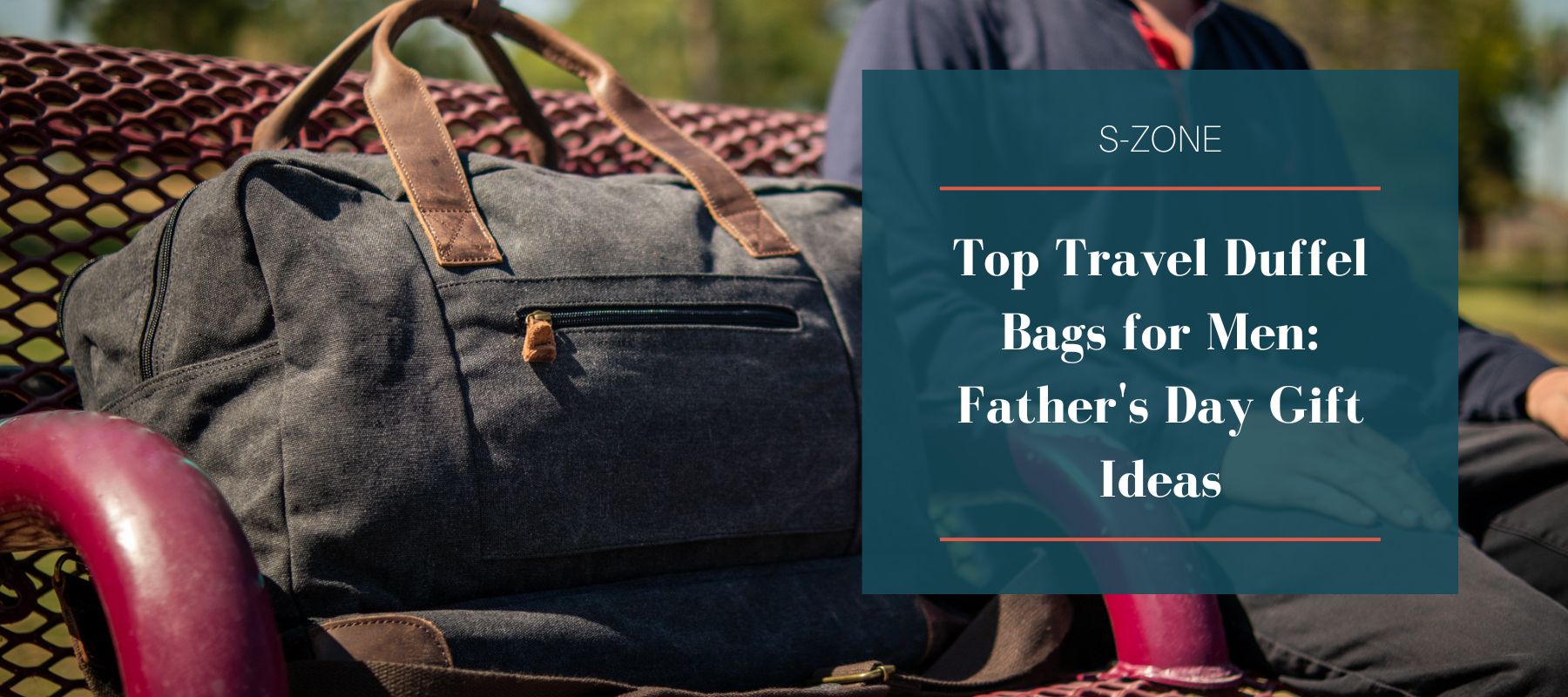 Top Travel Duffel Bags for Men: Father's Day Gift Ideas
Father's Day is approaching, and it's time to show appreciation for the incredible dads in our lives. If your father is an adventurous traveler, a high-quality travel duffel bag can be the perfect gift to enhance his journeys. These versatile bags offer ample storage space, durability, and style, making them an ideal companion for any adventure. In this article, we present a selection of travel duffel bags that would make excellent Father's Day gifts for the wanderlust-driven dads.


Why we choose travel duffel as father's day gift?

Travel weekender duffle bag is a symbolic of adventure and exploration. Giving your dad a travel duffel bag as a Father's Day gift symbolizes your support and encouragement for his adventurous spirit. It acknowledges his love for exploration and the importance of taking time for himself to embark on new journeys and experiences.

One of the key reasons why travel duffel bags are an excellent gift for fathers is their durability and versatility. Whether he's embarking on a weekend getaway, business trip, or outdoor adventure, a well-designed duffel bag can handle it all. Made from robust materials like nylon or canvas, these bags are built to withstand rough handling, varying weather conditions, and repeated use. The ability to carry them as a duffel or wear them as a backpack adds to their versatility, making them suitable for any travel style or destination.

From what aspects to choose a travel duffel bag?

Spacious and Organized:
Another advantage of travel duffel bags is their spaciousness and organizational features. Dads often have a lot to pack, whether it's clothes, toiletries, gadgets, or sports gear. A duffel bag with multiple compartments, interior pockets, and external storage options can keep everything neatly organized and easily accessible. Look for bags with dedicated shoe compartments or wet/dry pockets to separate dirty or damp items, ensuring a hassle-free and organized travel experience.

Easy to Carry:
Comfortable carrying options are essential when choosing a travel duffel bag. Adjustable shoulder straps, padded handles, and even stowaway backpack straps provide various carrying choices to suit any dad's preferences. Lightweight designs and ergonomic features make these bags easy to transport, whether he's navigating busy airports, trekking through the wilderness, or simply strolling through the city streets. The ability to adapt the carrying style based on the situation adds convenience and comfort to his travels.

Style and Design:
While functionality is paramount, style and design should not be overlooked. Many travel overnight duffel bags for men come in sleek, masculine designs and color options that complement various travel aesthetics. From classic solid colors to modern patterns, finding a bag that matches your dad's personal style will make the gift even more meaningful. Consider his preferences and choose a bag that reflects his personality, whether he prefers a rugged outdoor look or a sleek and sophisticated appearance.

Here are a few highly-rated travel duffel bags for men that would make fantastic Father's Day gifts:

40L Waxed Canvas Waterproof Backpack Duffel Bags
Waterproof Duffel Bag: made from waterproof durable waxed canvas with premium crazy horse leather trim
Large Capacity: 40 L
Separate laptop compartment: The separate computer compartment can hould a 15.6" laptop, 9.7" pad and more.
Adjustable strap length: 30.7"- 52" ( for short trips of 3-4 days)
RFID blocking pocket: RFID blocking security pocket protects personal data against digital pick.

Overnight Duffle Bag with Toiletry Bag and Shoe Compartment
Free Toiletry Bag: 8.7×4×4inch) separating toiletries from other stuff
Waterproof Duffel Bag: durable & water-resistant waxed canvas with PU leather trim
Large Capacity: 40L ( For 3-4 days trip)
Back Side Sleeve: 1 back side sleeve for sliding over the handle of a luggage to free your hands
4-Ways Carry-on Bag: hand carry, shoulder or crossbody wear; And you could also attach it to a suitcase
Functional Weekend Bag: RFID blocking pocket for protecting your cards' private information
Adjustable strap length: 40.2-50inch

55L Carry on Garment Duffel Bag for Men
Material: made of high-quality Oxford cloth, which is waterproof/tear-resistant and shock-resistant to better protect your suits or dress. YKK zipperis are stronger and prevents breakage.
Large capacity: The large 55L capacity. The perfect size of the carry on suit bag is fit for the airline requirements, you can put it on the overhead bin or under the seat.
User-Friendly Design: Easy to carry in three ways, Short loop handles allow you to easily carry your clothing travel bag through the airport, detachable and adjustable shoulder straps to carry with you directly
Back sleeves: The back sleeves allow you to slip this travel duffel bag onto the extended handle of a suitcase or luggage.

35L Waterproof Mens Travel Duffel Bags
Waterproof Duffel Bag: durable & water-resistant waxed canvas with PU leather trim
Large Capacity: 35 l ( For 3-4 days trip)
Multi-Functional: Sturdy crazy horse leather handles and adjustable shoulder straps allow you to carry in two ways. The back pocket allows the bag to be fastened to the suitcase, making your trip more convenient and comfortable
3-Ways Carry-on Bag: Comes with detachable and adjustable shoulder strap which easily switch your overnight bag to hand carry/shoulder/crossbody wear
Functional Weekend Bag: RFID blocking pocket for protecting your cards' private information
Adjustable strap length: 30.7"- 52"
This Father's Day, surprise your adventurous dad with a travel duffel bag that combines style, durability, and practicality. S-ZONE Travel Duffel bags are excellent choices that cater to different needs and preferences. Whether he's embarking on a weekend adventure or a long-haul trip, these duffel bags will make his journeys more convenient and enjoyable. Show your dad how much you care by giving him a gift that suits his wanderlust spirit and enhances his travel experiences.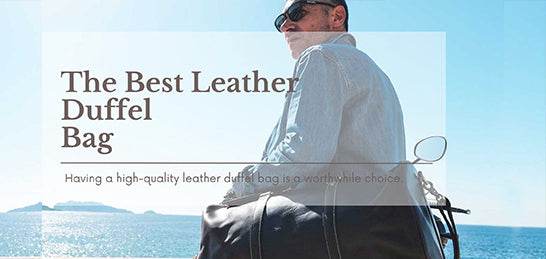 How To Find A Good Leather Duffel Bag
The Best Leather Duffel Bag When we need a duffel bag? What to look for while buying a leaher duffel bag? How to maintain your duffel bag?  When we need a duffel bag? When it comes to travel b...
Read more