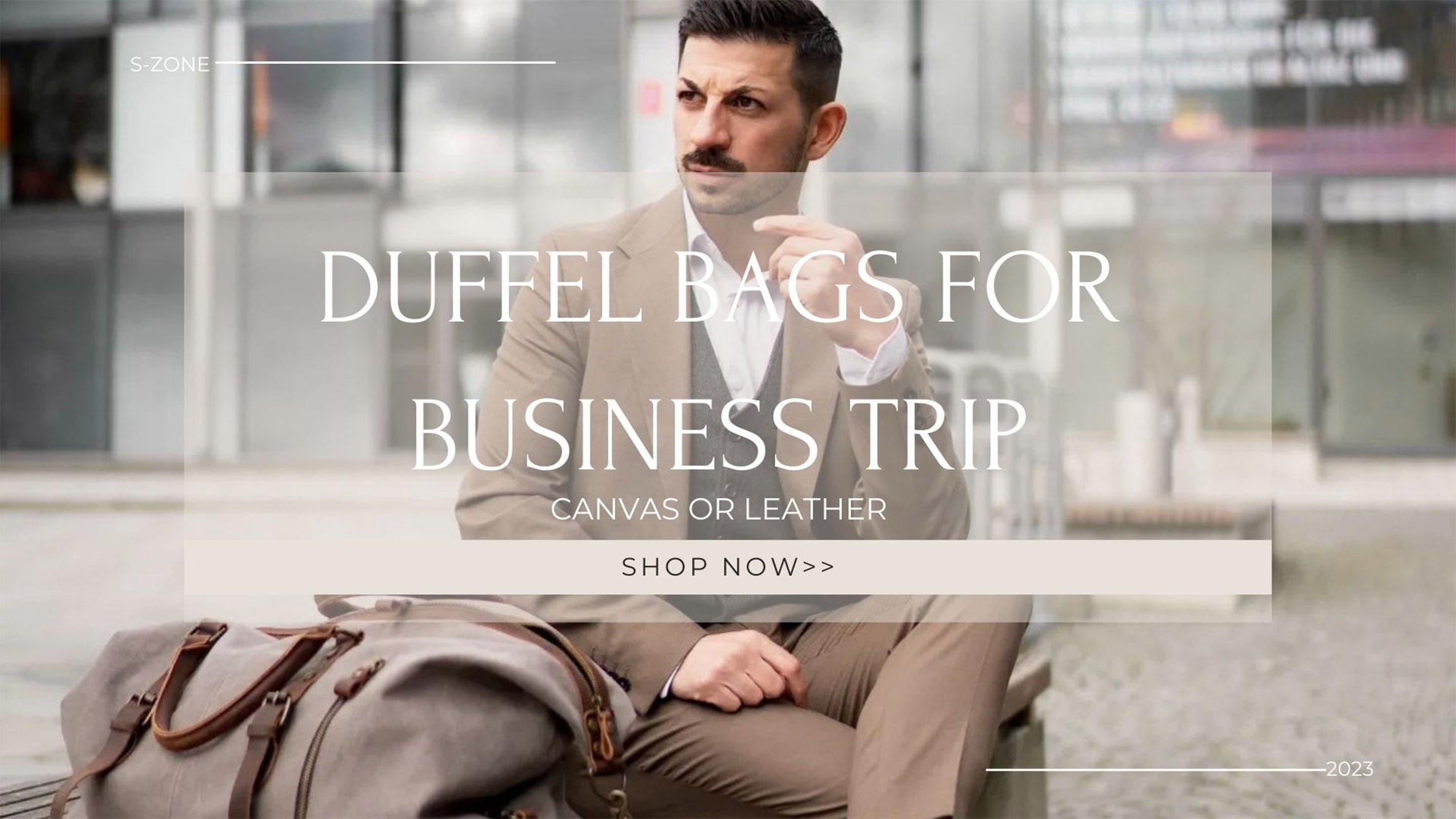 THE BEST DUFFEL BAGS FOR BUSINESS TRIP
DUFFEL BAG FOR BUSINESS TRIP
When it comes to packing for a business trip, having the right luggage can make all the difference. A duffel bag is a great option that offers both style and functionality. There are two main types of duffel bags to choose from: canvas and leather.
CANVAS DUFFEL BAG
Canvas duffel bags are a popular choice among business travelers. They are durable, lightweight, and come in a variety of sizes and colors. Canvas is also relatively easy to clean, which makes it ideal for travel.
CANVAS DUFFEL BAG WITH LAPTOP COMPARTMENT
One great feature that some canvas duffel bags have is a laptop compartment. This allows you to keep your laptop separate from the rest of your belongings, keeping it safe and protected during travel. 
S-ZONE 35L Mens Travel Duffel Bags
   Price:$49.99
Capacity: 50L enough for a 3–4 days trip
Size:20.5''L x 12.2''W x 9.4''H

, which fits up to 15.6 inch Laptop

Weight: 3.32lb
GARTMENT DUFFEL
This duffel bag is designed to convert into a garment bag. This is a great feature for business travelers who need to bring their suits or dresses with them. The bag can be carried as a regular duffel when you're on the go, and then easily convert into a garment bag when it's time to hang up your clothes.
45L Large Canvas Weekender Duffel Bag
Price: $46.99
Capacity: 45L
Size: 23 x (W) 11.2 x (H) 12.5 
Weight: 4.13 pounds
CANVAS DUFFEL BAG WITH SHOE COMPARTMENT
Some canvas duffel bags also have a shoe compartment at the bottom, which is perfect for keeping your shoes separate from the rest of your clothes.
50L Canvas Duffel Bag With Shoe & Laptop Compartment
Price:$66.99
Capacity: 50L enough for a 3–7 days trip
Size:

21.5''L x 16.3''H x 8.9'' W, which fits up to 15.6-inch Laptop

Weight: 3.24 pounds
Price:$79.99
Capacity: 45L 
Size:

20" x 10" x 14" inch

, which fits up to 15.6-inch Laptop

Weight: 3.14 lbs
LEATHER DUFFEL BAG
Leather duffel bags are a more sophisticated option for business travelers. They offer a classic look that is both professional and stylish. Leather is also very durable and will last for years to come.
One downside to leather duffel bags is that they tend to be heavier than canvas duffel bags. However, many manufacturers have started to use lightweight materials to make their bags less cumbersome.
Like canvas duffel bags, leather duffel bags may also have a laptop compartment or a shoe compartment. Some even have both! Make sure to choose a bag that fits all your essential items without being too bulky.
50L Men's Large Travel Duffel Bag
Price:$256.99
Capacity: 50L
Size:

23.62inch *9.45inch *13.78inch

 

Weight: 2.15kg
40L Classical Leather Garment Duffel Bag For Men
Price: $239.99
Capacity: 40L 
Size: 21.65inch*10.24inch *11.42inch
Weight: 2.15 lbs
Carry-On Duffel Bags
Both canvas and leather duffel bags can be used as carry-on luggage on an airplane. Many manufacturers have designed their duffel bags to meet airline size restrictions, so make sure to check the dimensions before you buy.
Carry-on duffel bags are perfect for short business trips because you can keep them with you at all times. They also eliminate the need to wait at baggage claim, which can save you time and hassle.
Whether you choose a canvas or leather duffel bag for your business trip, make sure it meets your needs in terms of functionality and style. Look for features like laptop compartments, shoe compartments, and convertible designs. And don't forget to double-check the size requirements for carry-on luggage if you plan on bringing your duffel bag onto the plane. With the right duffel bag, you can travel in comfort, style, and efficiency while still looking professional and put-together.
                                           >>>SHOP NOW