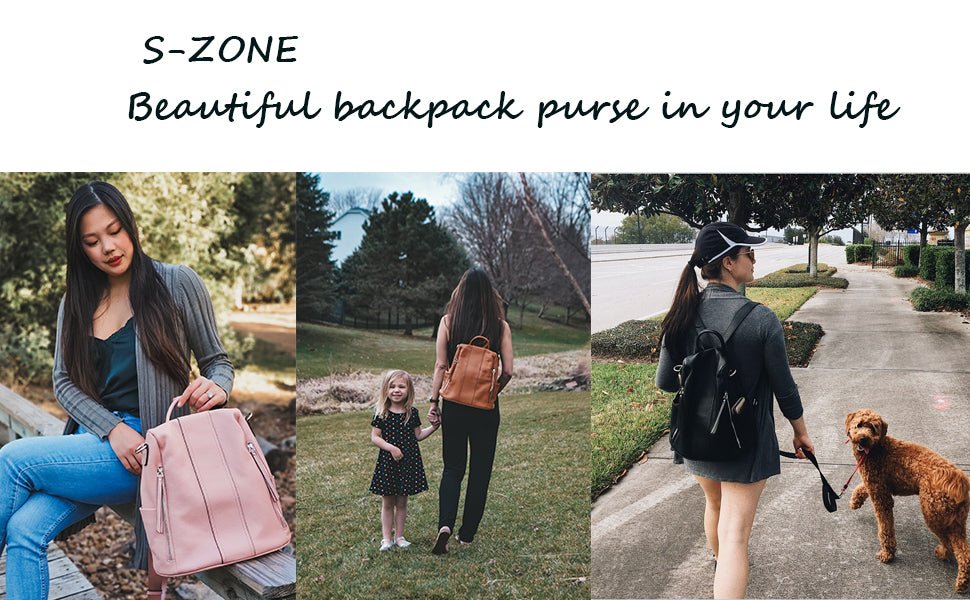 Questions: Does this hot-selling backpack work well?
Everyone needs a nice backpack. The backpack today has been chosen by lots of people. Let's see what they are concerned about.
Question 1: Is the material easily broken? 
Answer: The backpack is made of durable soft genuine leather. Top Grain Leather is made of the first layer of leather which seems shinier or glossy. Naturally soft, anti-scratch and durability are the major characteristics. The longer you use it, the more retrospective it will be. That's also the reason why it is chosen as advanced material by brand manufacturers.
S-ZONE provides 1 year warranty for our customers!
Question 2: Is this backpack large in capacity? Can it carry water bottles in the side pockets? 
Answer: The detailed dimension of this backpack is: (L*W*H) 13.2"x 6.3" x 12.8", It can contain more than you expected.
There is a special design of this backpack: Back Zipper Closure, which is designed for ANTI-THEFT performance. 
The backpack comes with two zip pockets outside at both ends, two side open pockets for umbrellas or bottles, inside one zipper pocket for small private objects, two holder pockets for phone and cards and a main pocket. Hands free anytime. So it is also a good choice for a diaper bag.
Please Notice:  Exterior side pockets are fit for 2.16'' width water bottle ,receipt, tickets, and the bag fits up to 9.7" tablet and other.(Not suitable for binders or any laptop larger than 9.7'')
Question 3: Will the strap slip down easily?Answer:
 If you mean off the shoulder, no. If you mean to adjust, yes it's pretty easy for that.
The first layer of the straps is genuine leather and the second one is braided tape. There is no Fully Leather Strap. This special design is to upgrade the comfort when the bag is filled with heavy stuff. It can be used as a school rucksack, travel daypack, diaper bag, shopping bag and etc. If you want a convenient bag with excellent quality, that's it!
The adjustable buckle allows you to adjust the length of the strap to fit you at any time. It is easy to adjust and securely fastened. And it comes with a detachable strap. The shoulder strap with leather trim is durable and stylish.
This functional leather bag can be carried in 3 different ways: Backpack/Shoulder bag/Handbag.
Question 4: Is the hardware firm?
Answer: Yes, High-quality thickened metal hardware is rust-resistant. It is strong and durable and retains its luster for a long time.
Question 5: Does the leather look like the picture?
Answer: Yes, there is some real feedbacks from people who bought it. Let's take a look.
Okay~That's all for today!Welcome to share your ideas with us!
See you next time~